For further high-performanced polyester cushion
we recommend to combine with vertical non-woven structure.
Still working on the combination with cross-laid non-woven to create more added-value products.
Besides, mixing fiber of SOLOTEX and ECOPET, we will provide more eco friendly products.
Vertical structured non-woven
Vertical structured non-woven has a vertical direction, and we figured out to create more functional cushion with high performed fiber like SOLOTEX.Thanks to a vertical structure, able to be easy bending and molding.Environmental load reduction becomes possible to combine with ECOPET.
Cross-sectional structure
Vertical structured

Conventional structured (cross-laid)


SOLOTEX is a Polytrimethylene telephthalate(PTT) fiber.
The own molecular structure brings soft and flexible cushion touch.Even after compressed repeatedly, capable to keep the form stability and lasting the own feeling.

ECOPET is a polyester fiber made from collected used PET bottles through the "material recycle process".It enables the effective use of available resources without relying on petroleum, effectively reducing the environmental impact.
Material recycling process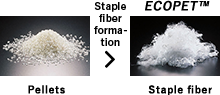 Image graph by compression durability test
Compression durability : comparing with conventional non-woven and PU