Comfortable life with elk®
Mattress
Help high-quality sleep on the bed
elk which has flexibility is a suitable mattress.As elk supports our body appropriate and prevents our body on the mattress from sinking too much.
And, the stong and flexible non-woven structure keeps the resiliency.
Since the air permeability performance is high, we can spend more comfortable.Thanks to a light weight of elk, more easy to put the mattress in storage, and dry in the sun.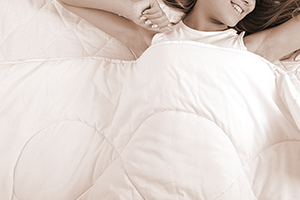 Comparing the moisture with Polyurethane
As elk has a 3-dimensional non-woven structure, there are many vacant space for air and vapor through.
At the measurement to check the humidity on the back censor, elk proves the comfortable sleep.

Test method : put the censor on the back, and measuring the humidity.(In-house measurement data)
Setting Temperature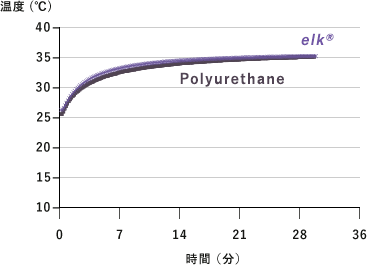 Humidity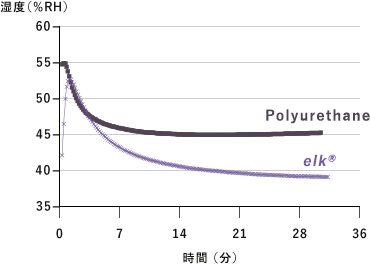 High air permeability
elk® seat cushion = 3-dimensional non-woven structure = better air permeability
| | UNIT | elk® | polyurethane | Test Standard |
| --- | --- | --- | --- | --- |
| Density | kg/m3 | 34 | 40 | JIS-K-6400-1 |
| Hardness | N | 295 | 295 | JIS-K-6400-2(25% compression stress) |
| Air permeability | cc/cm2.sec | 130 | 3 | JIS L 1913 |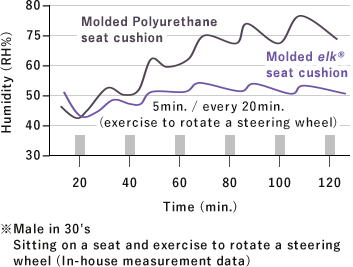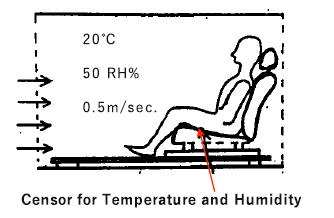 Toss and turn test
As for the mattress made in Polyurethane, a body is easy to be depressed.However elk mattress has few burdens to a body at the time of roll-over.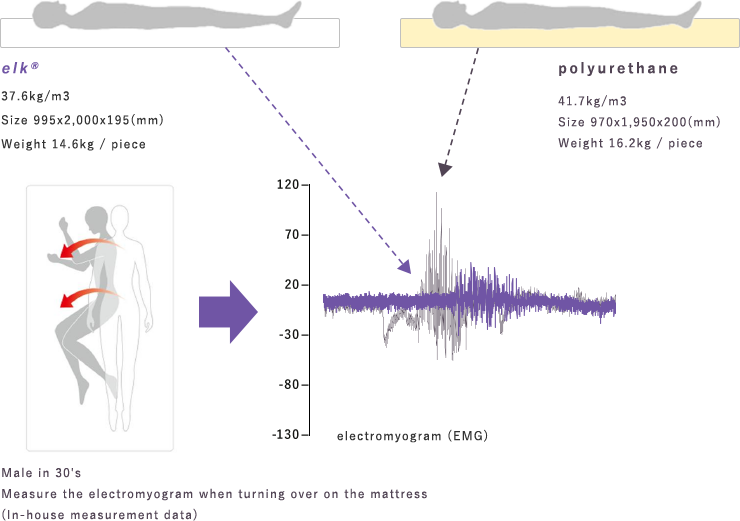 Brassiere pad
On the sensitive bare skin of the woman, provide the cleanliness and refreshingness.
As for the brassiere pad, more comfortable and breathable material has been required.Thanks to a 3-dimensional structure of elk, it is suitable for the pad, and we can keep cleanliness by taking away the moisture through the vacant space of cushion.
Besides, as the elk brassiere pad is a breathable material, able to continue to keep cleanliness by washing.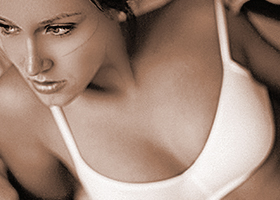 Temperature / Humidity test by wearing brassiere pad
During exercise, and after exercise, elk brassiere pad is more comfortable than PU pad by temterature and humidity checking test.
Skin temperature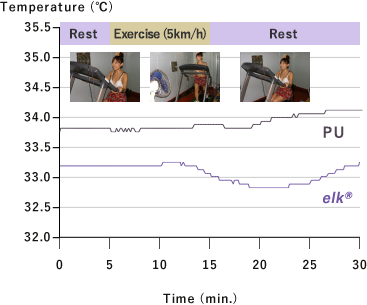 Inside of pad temperature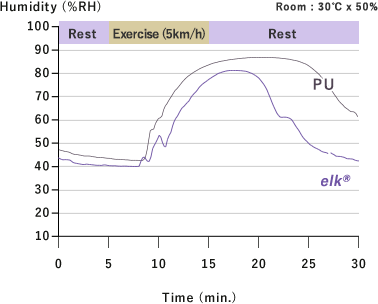 Temperature gap on wearing brassiere

Due to less air permeability of PU bra cup, the actual skin temperature is higher than elk bra cup.But checking through thermal camera, we can see the PU bra cup temperature seems to be cooler as the heat is kept inside.elk bra cup has more air permeability, then the cup temperature seems higher through checking by thermal camera.
Skin temperature after taking out brassiere

elk brassiere pad still keeps lower temperature than PU pad even after 15 min. exercise.
Breathable test
elk is superior to the air permeability.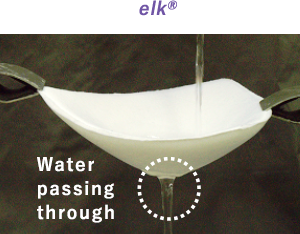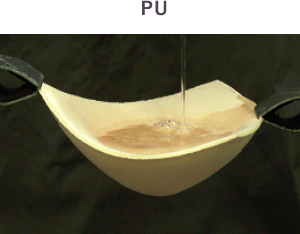 Material for clothing
Available for an insulation for apparel jacket, and shoe material.
To make the use of the unique performance, now the application becomes more widely available such like an insulation for apparel, and shoe material.
The requirement of the weight reduction of jacket, but need to be warm is also in the spotlight, and elk could be make it.